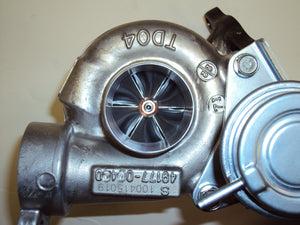 DR-650 Billet Turbo SET
The Next evolution of the legendary DR-650 turbo.

The new billet compression wheel is much stronger and lighter then the old wheel. Also its billet design allows for a much smaller center post giving the turbo much more blade area.

Looking to get into a Billet TD-04 bolt on turbo that will put you into the 550+ AWHP range this is the way to go.

Talk about Bang for the buck!, Ray P. on his 96 3000gt VR-4, with a stock 185K Mile motor, Billet DR650's, 550cc injectors, Fuel controller, Down pipe, Fuel pump, and boost control made 519 AWHP and 565 AWTQ! This through stock intercoolers, and stock cat back exhaust, on an old tired 185K mile motor. This setup also blasted him into the 10's in the 1/4 mile with a 10.9 pass! That's almost mind boggling with such few mods! Congrats Ray!
Larry Koren also has busted into the 10's with his stock long block, stock intercooler, Billet DR650 car running a 10.84@127mph. Congrats Larry!
This is for a SET of 2 turbos, one front, one rear
There is a $300 refundable core charge on these turbos you get back when we receive your usable cores.
Turbo install kit available as a option. Install kit has Oil feed lines, turbo gaskets, o2 housing gaskets, oil drain line gaskets, turbo oil line crush washers.
Our Billet DR-650's are now available with a lightweight, high flowing 11 blade Exhaust turbine option! If you would like this upgrade please select it from the drop down menu. 
Note: Current back order build time on DR650's is approximately 4 weeks
---
We Also Recommend