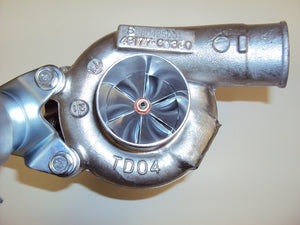 DR-750R Billet Turbo SET
If what you are looking for is the biggest and baddest direct bolt on turbo this is it. These turbos incorporate the highest flowing Billet compressor wheel ever used in a 3000gt/stealth stock housing along with our own design 9 blade super light turbine wheel. This turbine wheel is the size of a TD-04HL turbine but has 9 blades VS the 12 in the HL turbine for MUCH better flow. It even flows better then our 11 blade turbine used in the version 1 DR750's.

If you want the "sleeper" look and easy install of a stock housings direct bolt on turbo but the power of a "big" turbo car this turbo was made for you.

DR750 turbos made 604 AWHP, and 611 AWTQ to the wheels on Matt M.'s totaly stock motor 95 Dodge Stealth with 80,000 miles on the motor, stock block, stock heads, stock cams. At 25psi of boost.

Eric M. also made 609 AWHP and 651 AWTQ on his Stock long block, but with adjustable cam gears, 91 Stealth RT TT at 25psi of boost on PUMP GAS, with these turbos. Eric's car broke 400ft/lb of TQ at 3100rpm, and brakes 600ft/lb of TQ at 3900rpm! Those are Numbers a 500+ CID BIG block V8 would love to have, and this is from a 183 cid V6!
Ray P.'s DR750 powered 3000GT put down 707 awhp and 746 awtq running DR stage 3 heads and street cams and his car is even running stock Exhaust and side mount inter coolers for the ultimate and sleeper look. I feel sorry for the C7 Z06 or STR Hellcat owner that thinks he is going to be a easy mark!
Jeff Davis's DR750 powered VR-4 put out 683 awhp and 647 awtq, good job Jeff!

Congratulations Ray P. on setting the 1/4 mile TD-04 turbo World record in his DR750 powered 3000gt running 10.51@135mph! Not bad for a full street trim car that he drove to and from the track.
All of the stock motor, stock heads, stock cams, TD-04 3/s cars on earth making over 600 awhp DR TD-04 turbos.
There is a $300 refundable core charge on these turbos you get back when we receive your usable cores.
Turbo install kit available as a option. Install kit has Oil feed lines, turbo gaskets, o2 housing gaskets, oil drain line gaskets, turbo oil line crush washers.
Note: Current back order build time on DR750's is approximately 8 weeks
---
We Also Recommend